Like you, we're excited about in-person holidays with loved ones this year.
Of course, indulging is great fun and even expected, but you don't want to face the new year with extra pounds, illness, and regrets. Use these tips to help balance the fun ahead.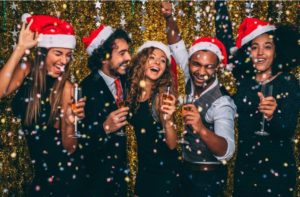 1. Holiday Meals
When everyone makes their favorite dishes and chocolates abound on every end-table, it's tough to take a pass. It's a special day after all. But extra weight impacts overall health in dozens of ways. Balance the pecan pie slices and peanut butter balls with these tricks:
● Snack on high-protein, satiating nuts and flaxseed crackers an hour or two before going to the event. If you're making the meal, keep healthy snacks at hand to avoid popping the rich appetizers and cookie dough into your mouth as you cook.
● Fast. If a holiday dinner party is ahead, shorten your eating window. If the dinner is at 5:00 p.m., have your first meal at 11:00 a.m. Consider waiting until 11:00 a.m. to eat the morning after the holiday meal as well. Two days of 18-hour fasts should balance a big calorie load. Talk with your doctor about your unique health status before trying fasting. It is usually not recommended for pregnant and breastfeeding mothers.
● Buy disposable containers and plan to send extra pie, mashed potatoes, and more home with guests. Getting the temptations out of the refrigerator means you'll avoid days of high-sugar, pumpkin pie breakfasts and late-night ham sneaks.
2. Immune system preparation, protection, and maintenance
The best protection against viruses and even colds this season is priming your own powerful immune system. Easy ways to do this include:
● Move as much as possible every day. Muscle contractions that occur during exercise increase blood and lymph flow which prompts the circulation of immune cells. More immune cells patrolling the body more frequently means fewer bacteria and viruses replicating in your system. Exercise also reduces inflammation in the body, and lower inflammation means better immunity.
Movement doesn't necessarily mean hard workouts every day. Many of us assume that exercise is inadequate unless we don our workout clothes and spend an hour maintaining a 135+ heart rate. Busy days may mean we may only get 10 minutes of lunges, jumping jacks, and arm curls while in our jeans or pajamas once or twice a day. These are helpful! Don't count them out. More good news: cleaning and decorating counts, too.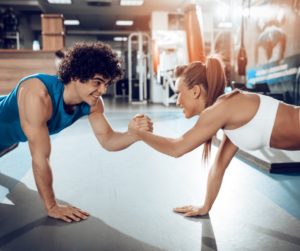 ● Consider family-wide COVID19 testing. Having all family members take a rapid, at-home COVID19 test helps put fears at ease when envisioning Uncle Jimmy sneezing close to the salad or grandma having a coughing fit. While the at-home kits aren't as accurate as those done in the lab, they are affordable and deliver results in 15 minutes. You can even watch the results slowly develop on the test strip.
Two kinds of rapid tests — molecular and antigen — have FDA emergency use approval. Molecular tests detect SARS-CoV-2 virus genetic material existing in your sample. Because these tests use chemical techniques to amplify any genetic material found, they catch the presence of coronavirus at a very early stage. Available on Amazon, molecular tests from Lucira and Detect run $90 each.
Antigen tests, on the other hand, hunt for a protein that binds to the coronavirus' RNA. Less adept at detecting early coronavirus infection — before the viral load has reached a critical mass — antigen tests are sold in two packs so you can take the first and then the second two to three days later. Companies iHealth, QuickVue, CareStart, BD Veritor, and BinaxNow sell them for from $14 to $24 for packs of two. Find them online or at your local pharmacy.
Both tests have been shown to render false positives, but only rarely. Feeling queasy about making this request? Why not have a call ahead of time to discuss the feasibility of testing? Stubborn family members may concede if you offer to pay for the test as a courtesy.
● B12 shots or IV therapy before and after your event. Here at Essex MedSpa, we administer a lot of B12 shots and IV therapy during the holidays. Our patients report that these therapies help them stay upbeat and healthy as doorbells rang and dishes piled up.
B12 is a water-soluble vitamin essential for red blood cell formation, cell metabolism, and nerve function. You've probably heard of musicians and movies stars relying on B12 shots to maintain their energy levels for taxing performances. Studies have shown that B12 enhances the body's immune defense. Many rely on it during the flu and cold season in combination with other supplements like Vitamin C, Zinc, and Echinacea.
IV vitamin and mineral infusions provide higher doses of nutrients than can be obtained via pills. Plus, injected directly into your bloodstream and bypassing the gastric system, their benefits are more readily and powerfully available. Finally, the natural micronutrients enter your body free of binders, fillers, and additives present in pills. We custom mix your intravenous formula to prioritize immune health, which means plenty of B and C vitamins as well as Zinc and Glutathione. Often, patients who complain of feeling "run down" after the holidays begin to get their groove back after an IV infusion.
Happy Happy Holidays from Essex MedSpa!
At the holidays, we like to share this quote from 19th century American essayist Hamilton Wright Mabie.
"Blessed is the season which engages the whole world in a conspiracy of love."
Chances are, your loved ones will step out from behind Zoom screens this year and celebrate with you in person. It will be magical. Still, remembering to protect your health while celebrating will set you up for a robust and positive new year.
If you think a B12 injection or IV therapy could be just the assist you need as the holidays approach, please call 303-973-3683 or ask your questions on our online form. We'll be sure to get back to you by the next business day.