A new generation of body contouring technology tackles skin laxity, cellulite, and excess fat from three angles
One of the coolest things we find about working at a medical spa is that our techniques not only rejuvenate our patients' appearance and physique, they jumpstart a new dedication to a better diet, as well as exercise and self-care routines.
The immediate gains we deliver just seem to motivate patients to embrace the healthy habits that support their investment in themselves.  A new figure can feel like a new lease on life, improving mood and attitude as well as contours.
Now, we have a new non-invasive device – Evolve Trim, Tite, and Tone – that brings dramatic results on three levels: fat reduction, skin remodeling, and muscle building. We're excited to help you get to your goal shape using this powerful technology from Evolve by InMode. Read below to see if it's right for you.
Why We Went With Evolve Trim, Tite, and Tone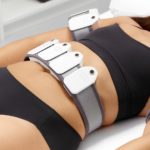 If you've been following us for a while, you know that we never embraced CoolSculpting, the cryolipolysis (fat freezing) device that supermodel Linda Evangelista claims "deformed" her.
CoolSculpting was designed to kill fat cells, Unfortunately, this device in some people causes "paradoxical adipose hyperplasia" or PAH, a rare result that causes firm tissue masses in the treated area.  When PAH occurs, fat cells actually get bigger, leaving patients with more lumps and bumps instead of fewer. In other words, patients look like they put on weight rather than slimmed down.
Unlike CoolSculpting, Evolve by InMode's approach relies on radiofrequency energy to dissolve fat cells. We prefer this method because we can provide tightening, fat reduction and toning individually or together depending on the body area and the goals of the client.  These treatments are customized to fit each individual's needs.
Would you like tighter skin? Schedule a free consult to talk with Dr. Sohayda about which no down time Evolve body contouring treatment would be right for you.
CoolSculpting v. Evolve Trim, Tite, and Tone
Evolve has another big advantage over CoolSculpting: it creates tighter contours and smoother skin using three approaches rather than one.
Where CoolSculpting depends on just cryolipolysis (fat freezing) technology, Evolve body contouring uses:
Radiofrequency thermal energy within a non-invasive vacuum applicator to smooth cellulite and tighten skin – Evolve Trim

Radiofrequency thermal energy within a non-invasive skin and sub-dermal layer applicator to stimulate collagen production within the surface and deep skin layers – Evolve Tite

Electrical muscle stimulation (EMS) within a non-invasive applicator for inciting as many muscle contractions as one gets at the gym doing 1000 squats and crunches – Evolve Tone
Those who use all three find they get the most dramatic results.
Who benefits from Evolve body contouring the most?
Patients who inquire about Evolve's Tite, Trim and Tone system often complain about these issues:
cellulite

post-pregnancy skin laxity

post-weight loss skin laxity

 belly & bra rolls

aging, crepey skin

untoned contours

fat bulges

wrinkles
They are looking for recontouring of the tummy, arms, back, breasts, and thighs. While you can utilize all three devices, sometimes one or two are the best choice. For instance, if you want to tighten skin in the breast area without losing any fat volume, you would use Evolve Tite and Evolve Trim. You would have no need for Evolve Tone.
Keep in mind that if you are over 50 and your weight loss has been so significant that your skin is overhanging dramatically, only surgical skin removal will address that excess skin.
If you're curious about how Evolve by InMode can revive your self-confidence and shape, please call 303-973-3683 or ask your questions on our online form. We'll be sure to get back to you by the next business day.