Ten Tips for Fabulous Summer Skin
Spring is finally here, and summer is just around the corner! It's time to change over to your light cotton wardrobe and clean out those musty winter blues. But before you head outdoors to enjoy some summer sun, you need to think about how to protect your skin from too much exposure to dangerous rays and sun damage. Here are our top ten tips to keep your skin glowing and healthy all summer long.
Exfoliate for clear skin.
Your makeup will last longer and look better if your skin is fresh and prepared for the day. Get rid of the dry cells from yesterday's sun, and embrace a new day with Rhonda Allison's BRIGHTENING SCRUB. It will smooth out your skin tone and remove dead cells for a brighter, healthier complexion.
Switch to lighter creams.
The heat and humidity of summer can cause your skin to become greasy and shiny. Try Rhonda Allison's MANDELIC AU LAIT for a hydrating, lighter cream that will protect and soothe your skin. And BETA GREEN TEA LOTION is a great all-around toner, which offers anti-oxidant benefits to protect against the summer sun.
Stay hydrated.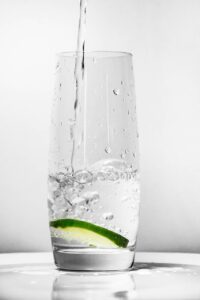 Nothing is worse for your skin than the sun's drying heat and the chafing of the wind. To ease this damage and to help with anti-aging, keep a bottle of Rhonda Allison's CUCUMBER SPRITZ close by. You can use after exfoliating and any time of the day over your makeup to wake up and refresh your skin.
4. Protect your skin from summer pollutants in the air.
Summer means spending more time outside. If you live in an area where you'll be exposed to damaging toxins, be sure to include Rhonda Allison's PURIFYING LOTION in your routine. This will add anti-aging anti-oxidants to protect against free-radical damage. It also helps to keep your skin adequately hydrated.
Guard against sun damage with a good sunblock.
It goes without saying that you need extra SPF protection in the summer sun. Rhonda Allison's DAYTIME DEFENSE SPF30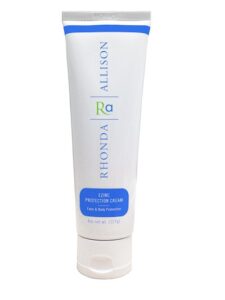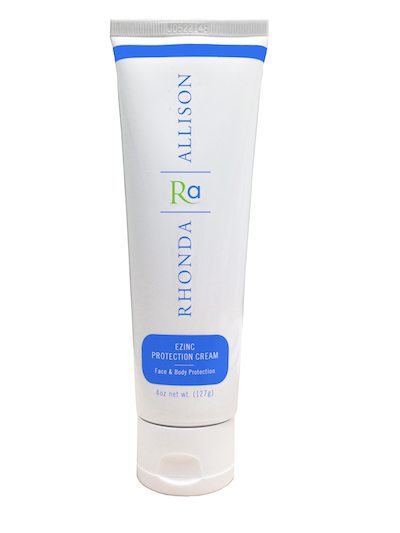 and EZINC PROTECTION CREAM both give you a protective shield against dangerous UV rays that can wreak havoc on your skin. These products are a summertime must when you venture outdoors as they protect against sun damage. They are powerful allies in your anti-aging battle.
Use a skin-lightening product.
As the sun's rays inevitably darken your skin, hyperpigmentation and freckles can cause uneven skin tone. You can fight this with Rhonda Allison's BRIGHTENING PIGMENT LOTION. As it tones and brightens, it also provides antioxidant support. Rice extract helps with hydration and soothes and conditions your skin.
Another powerful option is Rhonda Allison's SKIN BRIGHTENING GEL, which gently exfoliates and helps even out skin tone with the help of hydroquinone, a fast and effective lightening agent.
Quickly soothe and repair sun-damaged skin.
If you forgot your sunblock or unexpectedly find yourself outside for a period of time, you may still find yourself with sunburned or over-exposed skin. You can alleviate some of the damage with Rhonda Allison's ALOE MATTE MOISTURE CREAM. This binds moisture into the layers of your skin and provides soothing comfort. While not a sunblock, it contains SPF and L-Sodium Hyaluronate, which promotes hydration.
If you find that you need some extra healing help, try Rhonda Allison's PROSALVE, a powerful post-care healing balm which accelerates cell renewal and prevents transepidermal water loss. It provides maximum protection and helps with the healing of skin trauma.
Don't forget your eyes, hands and lips.
Your skin is the largest organ of your body. It can be easy to focus on your face, but the rest of your body needs care too!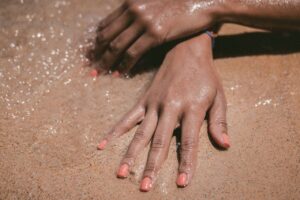 Try Rhonda Allison's BIO REFORM 28 body lotion to provide the extra hydration and anti-aging protection your body needs. And treat your hands to PHYTO-ENDORPHIN HAND CREAM. This long-lasting cream protects against the effects of aging and provides deep moisturizers.
Eyes and lips take an extra beating in the summer sun. Along with wearing sunglasses, don't forget to protect the delicate skin around your eyes with Rhonda Allison's EYE LIFT. Its special formula will help stimulate the skin's natural self-regenerating abilities and protect and revitalize tired-looking eyes.
In addition, EYE & LIP RENEW SERUM protects and revitalizes both lips and eyes, smoothing out fine lines and wrinkles and hydrating both lips and eyes as a powerful weapon against aging.
Treat your skin to a deep hydrating mask weekly.
Over-exposed summer skin deserves some extra pampering. Try one of these Rhonda Allison favorites to bring back that soft, youthful glow. Rhonda Allison's CHOCOLATE ANTIOXIDANT MASK is a favorite, revitalizing the skin with anti-oxidants while replenishing it with vitamins, minerals and amino acids. And who doesn't love the smell of chocolate?
Or try PAPAYA TANGERINE ENZYME, a formula that may be used as a base to mix with other enzymes or masks, or, it works well alone as an enzyme mask. It has a light tangerine aroma that is perfect for summer.
Relax and give your skin a well-deserved vacation.
Let our estheticians pamper your skin with one of our luxurious corrective treatments.  Some of the most popular are the Tahini, Maui and Tuscany Express Treatments.  Loaded with plenty of plant stem cells and antioxidants,  these treatments will provide your skin with the nourishment it needs to stay looking great all season long!
Who doesn't love summer, and the chance to get outside and catch some rays? You can be sure to have many fabulous sunshine-filled days and still keep your skin youthful and healthy by following these simple tips. Happy summer!
Exfoliate, nourish and hydrate your skin this summer with our wonderful array of Corrective Treatments!
Buy 2 Get One FREE Corrective Treatments
Purchase now and use through 
September 30, 2018
.