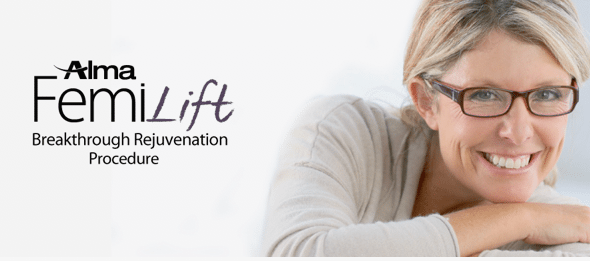 Loss of urinary control can occur as women age.  In addition, vaginal dryness and decreased sensation create concerns for women over time.  If you have noticed any of these symptoms, you are not alone. These changes may be subtle or drastic, and can significantly impact personal relationships and/or marriages. However there is a new solution that does not require any medication or surgery.  This new treatment will help women overcome these symptoms and feel more confident.
The Femilift is a versatile treatment solution for stress urinary incontinence, vaginal dryness and atrophy.   The procedure is fast, painless and provides highly effective results.
A unique handpiece  delivers laser energy to the circumference of the vagina to promote collagen production and remodeling.  This non-invasive treatment tightens the vagina and strengthens the supporting ligaments surrounding the bladder and urethra.  These benefits are best achieved with a series of three treatments, scheduled about 4 weeks apart.
To find out if you are a candidate for this non-invasive, minimal downtime treatment, book a consultation with Dr. Sohayda.  Hormone therapy can enhance results with the Femilift and may be a consideration in some cases.